SUNPLAST - MANUFACTURING EXCELLENCE
SUNPLAST values "product quality" as company's life!
Being a quality conscious organization, we maintain total quality system in our production process as well as marketing process. Stringent quality checks are conducted at every stage, beginning from sourcing quality raw material to packaging and till the delivery of the product.
SUNPLAST has many years of experience in extrusion and injection molding and is the market leader and pioneer in the manufacture of plastic piping systems in China. Our quality control systems include:
■ Test and acceptance of incoming material.
Material of excel performance is one of the qualification with produce the topping piping system. SUNPLAST company generally adopts TOP QUALITY raw materials from worldwide reputed factories in the production of pipes and fittings.Those materials are recognized as the top raw material by the professional in this vocation. The preferable performance of those materials and their stability establish the high quality station of SUNPLAST piping products and fittings on the markets.
■ In-process inspection and test.
Trained and qualified employees are very important. Most of workers in SUNPLAST are the experts with more than 10 years' experience in producing plastic piping and fittings in China. Their specialty greatly help us to find out the main manufacturing defects during our production, so that we can avoid the unqualified products on the markets timely.
Dimensional test and visual test will be made in the whole production process and packing. Any manufacturing defect can be found out, in case it happens.

The preproduction samples by our quality assurance department are tested by the laboratory technicians for:
(1) Surface finish;
(2) Dimensional accuracy of test samples;
(3) Date from extrusion and injection molding machines.
The goods will be released for production only if optimal test results are achieved. These tests are carried out at the beginning of each production series to ensure perfect quality for piping systems.
■ Final Inspection And Test.
Finished products are only released to stock when all tests and inspections conform to the prescribed procedures, which include:
(1) Density;
(2) Melt flow rate;
(3) Longitudinal reversion;
(4) Tensile strength;
(5) Elongation at break;
(6) Thermal stability;
(7) Internal hydrostatic pressure test.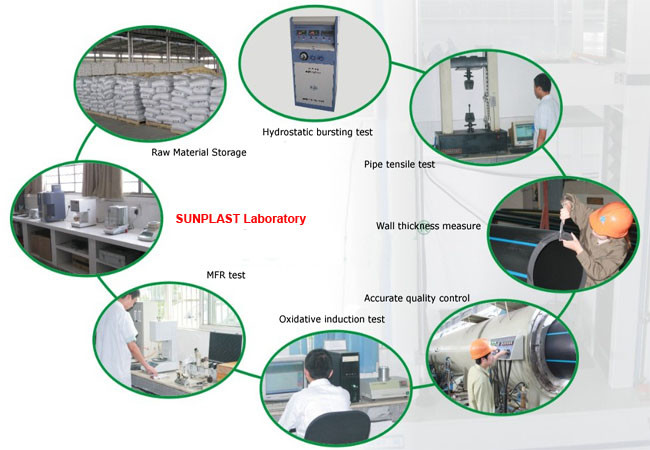 To ensure all piping delivered to our customers are 100% qualified, SUNPLAST has been strictly executing the quality system of ISO9001:2000. Each product has to pass our strict internal quality control before it is released to our customers.
SUNPLAST company has a professional testing laboratory owning complete testing equipment, which is certificated by national testing organization.