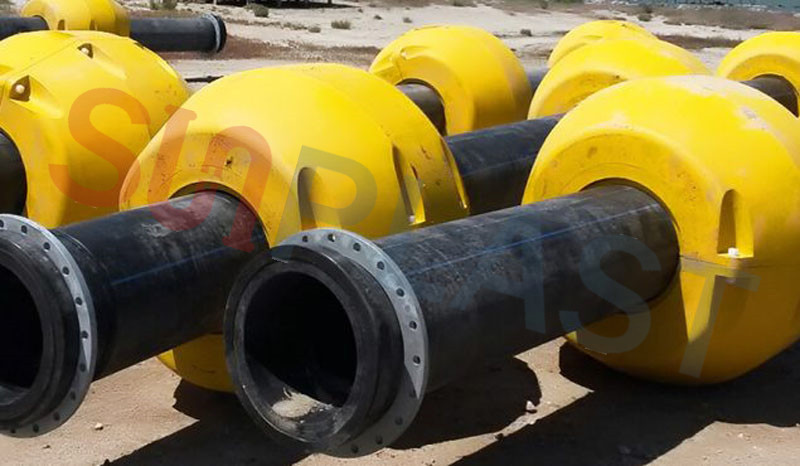 Dredge pipe floats/floater has been widely used for dredge work that used for discharging of sands, Sludge.,etc. The pipe floats can provide sufficient buoyancy to maintain the whole dredge pipeline floating above the water.
SUNPLAST dredge pipe floater/floats are designed to be applied on HDPE dredge pipe & rubber pipes that be used for dredge works. Each dredge pipe floats are composed by two halves, fixed by bolts/nuts when place two halves on the pipe. The inside diameter of dredge floats shall be designed into a elliptical shape, so they can be fixed with pressure tightly, no slipping while assembled into the pipe.
The Dredge Pipe Floater/Floats are made from high wear resistant LDPE material by rotational molding technology, filled with high strength closed-cell polyurethane foam inside.
Structure of Dredge pipe floats/floaters
Outer plastic shell: the pipe floats' outer shell is made from LDPE, about 5-16mm thickness, which can withstand the impact of sea wave. The outer plastic shell is rotationally moulded in one-time, no second welding jointing, this assure the reliability of for normal use.
Inner filled material: Inside of dredge pipe floats is filled with PU foam. PU foam is very light weight & nonabsorbent material. This assure The dredge pipe floats/floaters can still work in case the outer shell is leaking.
The dredge pipe floater/floats are normally manufactured in yellow color, which is a warning sign for the vessels passing by. Thanks to special design, the Dredge floater/floats can maximum absorb the energy from vessel collision, to protect the pipelines that they are supporting.
Specification
SUNPLAST can supply various specifications of dredge pipe floats/floaters for choice. The customers can also find a right dredge pipe floats from us based on their dredge pipe.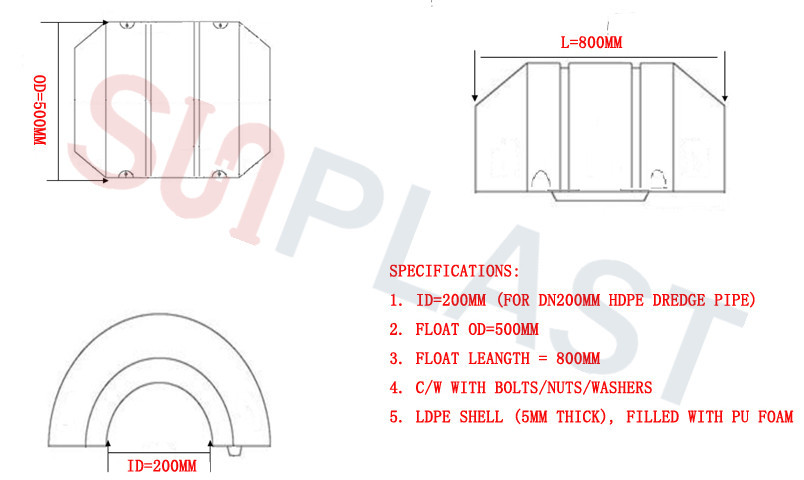 Floater I.D.
(mm)

Floater O.D.

(mm)

Floater Length

(mm)

Thickness Of MDPE Shell

(mm)

Net Buoyancy

(kg/pcs)

160/180

500

800

6

300

200/225

600

700

7

250

250/280/315

700

900

7

410

315

1100

1000

7

500

355

1100

1100

7

550

400/450

1200

1200

8

1200

450/500

1300

1300

8

1250

500/560

1300

1500

9

1350

560/630

1400

1600

9

1600

630

1480

1600

11

1950

630/710

1550

1800

12

2200

710

1620

1900

12

2300

710/800

1700

2000

13

2700

800

1850

2100

14

3200

900

2000

2400

15

4600

1000

2040

2500

16

4900

1200

2400

2600

16

6500
HDPE Dredge Pipe & Rubber hoses
Normally, the dredge pipe floats are assembled together with HDPE dredge pipe & rubber hoses.
SUNPLAST is a integrated provider of dredge pipeline products:
The dredge pipeline can be supplied with flanges at both ends, available for a diameter of DN110mm to DN1200mm in different wall thickness SDR33-SDR9. The steel flanges normally drilled into EN1092 standard, or as per customer's request.
Suction/discharging rubber hoses
Rubber hoses are made of strengthen vulcanized rubber, assembled with flanges at both ends. The rubber hose can make the whole pipeline more flexible, and reduce the wobble caused by sea wave.
Rubber hoses can be serviced max. PN15 bars, and can be customized made as per dredge pipe.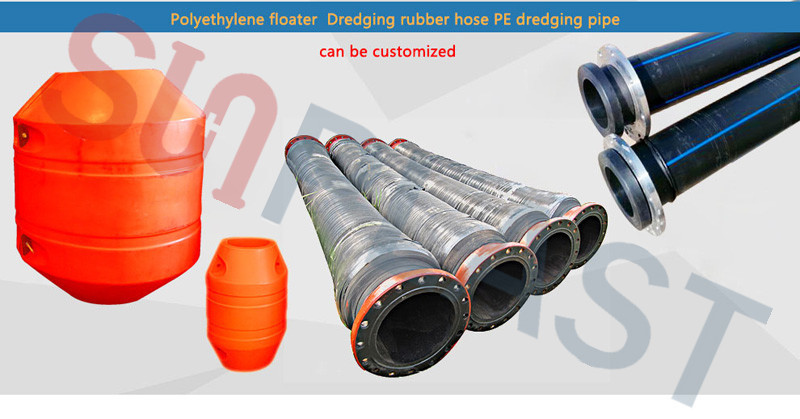 SUNPLAST is ready to provide our best quality dredge pipe floats/floater to all customers around the world.
For 24 hours contact details as below:
Email: export@ sunplastpipe.com
sunplastpipe@gmail.com
Tel: 0086-574-87226883/87467583
Mobile/whatsApp/Wechat: 0086-15968493053/18858041865
China Dredge Pipe Floater/Floats Manufacturers and Suppliers - Sunplast. Sunplast is famous with Reliable Quality, Reasonable Price and best Service.