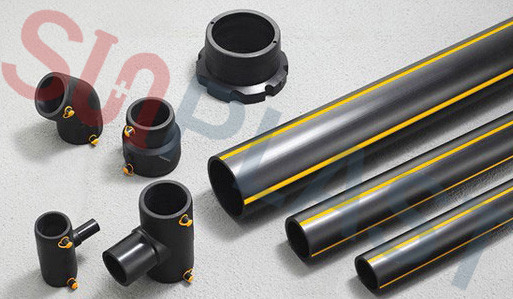 SUNPLAST HDPE gas pipe, manufactured from HDPE (High Dense Polyethylene), is the irreplaceable choice for outdoor natural and LP gas mains and reticulation / distribution pipelines. HDPE gas pipe firstly be used in Europe and North America in 1960. Today, it's estimated that over 90% of pipe installed worldwide for the natural gas distribution industry is HDPE pipe.
Because performance matters, to assure the best quality, all SUNPLAST HDPE gas pipe are adopted the top quality PE100 compound material or PE80 compound material from worldwide famous suppliers, such HE3490-LS from Borealis, P6006 from Sabic, YGH041T from Sinopec.,etc that is certificated as the highest quality material by PE100+ association.
SUNPLAST HDPE gas pipe has been widely used for outdoor gas distribution, because of many advantages:
※ Superior Performance
HDPE gas pipe be made of the top quality HDPE compound material, which assure the the superior performance & durable use for gas distribution.
※ Good Flexibility.
HDPE gas pipe can be provided in coils of 100m or 200m length for the diameter less than 63mm. Less jointing makes the HDPE gas pipe less leaking opportunity.
※ Reliable Jointing
HDPE gas pipe is connected by thermal-fusion technology, mainly by butt fusion or electrofusion. When the welding completes, the HDPE pipes & fittings are bonded together as a integrity, and the jointing is more reliable than pipe itself, and it is 100% leak-free when test is made.
※ Corrosion resistance
HDPE gas pipe is corrosion free to acid, alkali and salt.
※ Long lifetime
HDPE gas pipe has a long lifetime over 50 years for normal use.
SUNPLAST HDPE gas pipe be supplied in a diameter from dn20-630mm, with SDR rating SDR11 & SDR17.6.

SDR Ratings

SDR11

SDR17.6

Norminal Diameter

dn (mm)

Wall Thickness

e (mm)

20

2.3

2.3

25

2.3

2.3

32

3.0

2.3

40

3.7

2.3

50

4.6

2.9

63

5.8

3.6

75

6.8

4.3

90

8.2

5.2

110

10.0

6.3

160

14.6

9.1

200

18.2

11.4

250

22.7

14.2

315

28.6

17.9

400

36.3

22.7

500

45.4

28.4

630

57.2

35.7
Main features that SUNPLAST HDPE gas pipe have:
1. SUNPLAST HDPE gas pipe manufactured into G15558 standard, at the same time, it can also conform to ISO4437 standards.
2. All HDPE gas pipes are made of superior PE100 or PE80 raw materials from famous manufacturers, such as: HE3490-LS from Borealis, CRP100 from Basell and YGH041T from Sinopec, etc, which is certified as the highest quality HDPE material in the world.
3. Normally, the HDPE gas pipe shall be made in yellow color, or black colors with yellow strips.
4. The standard length for exporting is 5.8 meters or 11.8 meters for container loading. Pipe diameter less than 63mm would be packed in coil, also it could be decided at clients' request.
5. HDPE gas pipe is suitable for outdoor gas transportation on condition that working temperature is among -20℃~40℃ , and long-term maximum working pressure is not more than 0.7MPa
6. SUNPLAST can provide full ranges of HDPE pipe fittings for our HDPE gas pipe, including: HDPE butt fusion fittings & HDPE electrofusion fittings. All the HDPE pipe fittings are made by the same grade HDPE compound materials as the pipe does: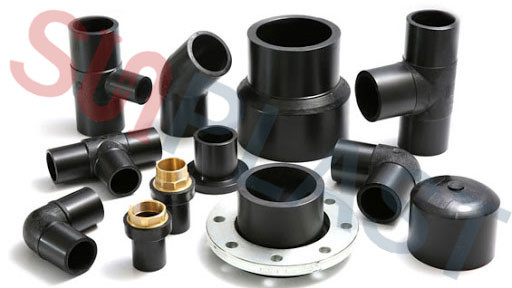 The HDPE butt fusion fittings are the most common used fittings for HDPE pipe.
SUNPLAST HDPE butt fusion fittings for gas distributors can be produced in wide diameters dn50-dn800mm
The HDPE butt fusion fittings are regular in SDR17 & SDR11.
Download our price list for SUNPLAST HDPE BUTT FUSION FITTINGS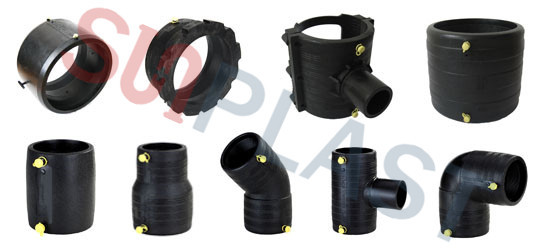 HDPE electrofusion fittings provide a more reliable connection for HDPE pipe, which are more & more adopted by our customers.
SUNPLAST HDPE electrofusion fittings can be offered from dn20mm to dn630mm, with pressure rating SDR11 for gas distributor
Download price list of SUNPLAST HDPE ELECTROFUSION FITTINGS
7. HDPE pipe welding machine can also be supplied by SUNPLAST, which includes: HDPE butt fusion welding machine & HDPE electrofusion welding machine:

The HDPE pipe butt fusion machine can be provided in various models, which can be divided into: manual type & hydraulic type.
Manual type is regular for small diameter pipe d50-dn160mm, dn50-dn200mm & dn90-250mm, which is a option of light-weight & cheaper prices.
Hydraulic type: hydraulic type welding machine uses hydraulic pressure to control the HDPE pipe's movements while welding, providing a certain & stable pressure while welding, which can max. ensure the welding results.
The hydraulic type HDPE pipe butt fusion machine can be produced for all diameters up to 50mm, which are: 63-160mm, 63-200mm, 90-250mm, 160-315mm, 160-355mm, 280-450mm, 280-500mm, 450-630mm, 630-800mm, 710-1000mm, 800-1200mm.
Download the price list of SUNPLAST HDPE PIPE BUTT FUSION MACHINE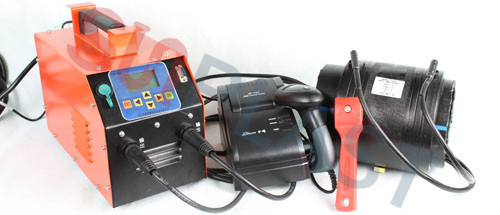 HDPE pipe electrofusion machine.
SUNPLAST HDPE pipe electrofusion machine is newly designed for the connection of our HDPE electrofusion fittings.
The HDPE pipe electrofusion welding machines can be offered in four models: SPE315 model is available to weld the diameter dn20-315mm, SPE400 model for the diameter dn20-400mm, SPE500 model for the diameter dn20-500mm while SPE630 model is for dn20-630mm.
Download the price list of HDPE PIPE ELECTROFUSION MACHINE
SUNPLAST is ready to provide our best quality HDPE gas pipes to all customers around the world.
For 24 hours contact details as below:
Email: export@ sunplastpipe.com
Tel: 0086-574-87226883/87467583
Mobile/whatsApp/Wechat: 0086-15968493053/18858041865
China HDPE Gas Pipe Manufacturers and Suppliers - Sunplast. Sunplast is famous with Reliable Quality, Reasonable Price and best Service.